Caspian Corridor Supported Broadly in London
Recognition of the growing need to work together on energy security in the Caucasus and Central Asia was the consensus view of high-level representatives from the Caspian region presented at the first Caspian Connectivity Conference in London held by the Caspian Policy Center (CPC). United Kingdom (U.K.) and United States (U.S.) representatives at the conference echoed a commitment to support the region's economic independence through the development of alternative trade and energy corridors.
Noting that half of Azerbaijan's natural gas exports are currently piped to Europe, with further European gas agreements in the offing, Azerbaijan's Foreign Minister Jeyhun Bayramov emphasized how his country has adapted energy and trade policies due to the changing geopolitical landscape. "…Transportation routes from Central Asia through the Caspian Sea and further through the Caucasus are becoming particularly relevant," he said, stressing his country's heavy investments to expand and modernize trade and transit infrastructure to boost trans-Caspian, "Middle Corridor" trade between Europe and Asia.
Given the global energy situation, the U.K. and U.S. representatives spoke of the need for engaging with and further investment in the Caspian region. Ambassador David Moran, U.K. Regional Energy Security and Climate Ambassador for Europe and Central Asia for the Foreign, Commonwealth, and Development Office (FCDO) said, "We're actively working to bolster energy infrastructure and boost capacity in the region, and our partnerships have never been so important." Joshua Volz, the U.S. Department of Energy's Deputy Assistant Secretary for the region, highlighted a critical role for the broader Caspian region in assisting to diversify energy resources and provide energy security as the world attempts the global challenge of achieving net-zero emissions.
Across panels during the one-day event, three common themes emerged among conference participants: the historic moment for the broader region, tectonic changes to regional trade, and energy challenges and opportunities.
The Historic Moment
While Russia's invasion of Ukraine was not a focus of the conference, the impact of the war on regional energy and trade, sanctions concerns and the need to diversify away from Russia as a primary trade/transit partner were undeniably aspects of discussions. Speakers from the region recognized the current period as one where development of the Middle Corridor across the Caspian is now more politically and economically viable, particularly as the Russian-dominated Northern Corridor is less attractive to international business.
Demographic and leadership changes in the Caucasus and Central Asia are also fueling evolutionary thinking away from Soviet legacy policies and infrastructure biases. The shunning of Russian partnerships has opened up and created opportunities for the Middle and other trade routes to become more attractive to investors and shippers. A major challenge one speaker noted, however, will be for the region to undertake substantial enough process investments (e.g. digitalization, customs harmonization) that will sustain trans-Caspian attractiveness and thereby weather the peace after the war with Ukraine ends.
A sense of this unique moment in history was articulated by all speakers, particularly in relation to the growing cooperation between leaderships in the Caucasus and Central Asia. "We are rapidly moving toward understanding that our region can be born as a single geopolitical space in which all forms of economic cooperation and interaction can be successful," recognized Ambassador Ulan Djusupov, along with a number of his regional counterparts. Through such increased cooperation, there was agreement that greater trade efficiencies are developing which will provide the potential for long-term economic resilience and prosperity.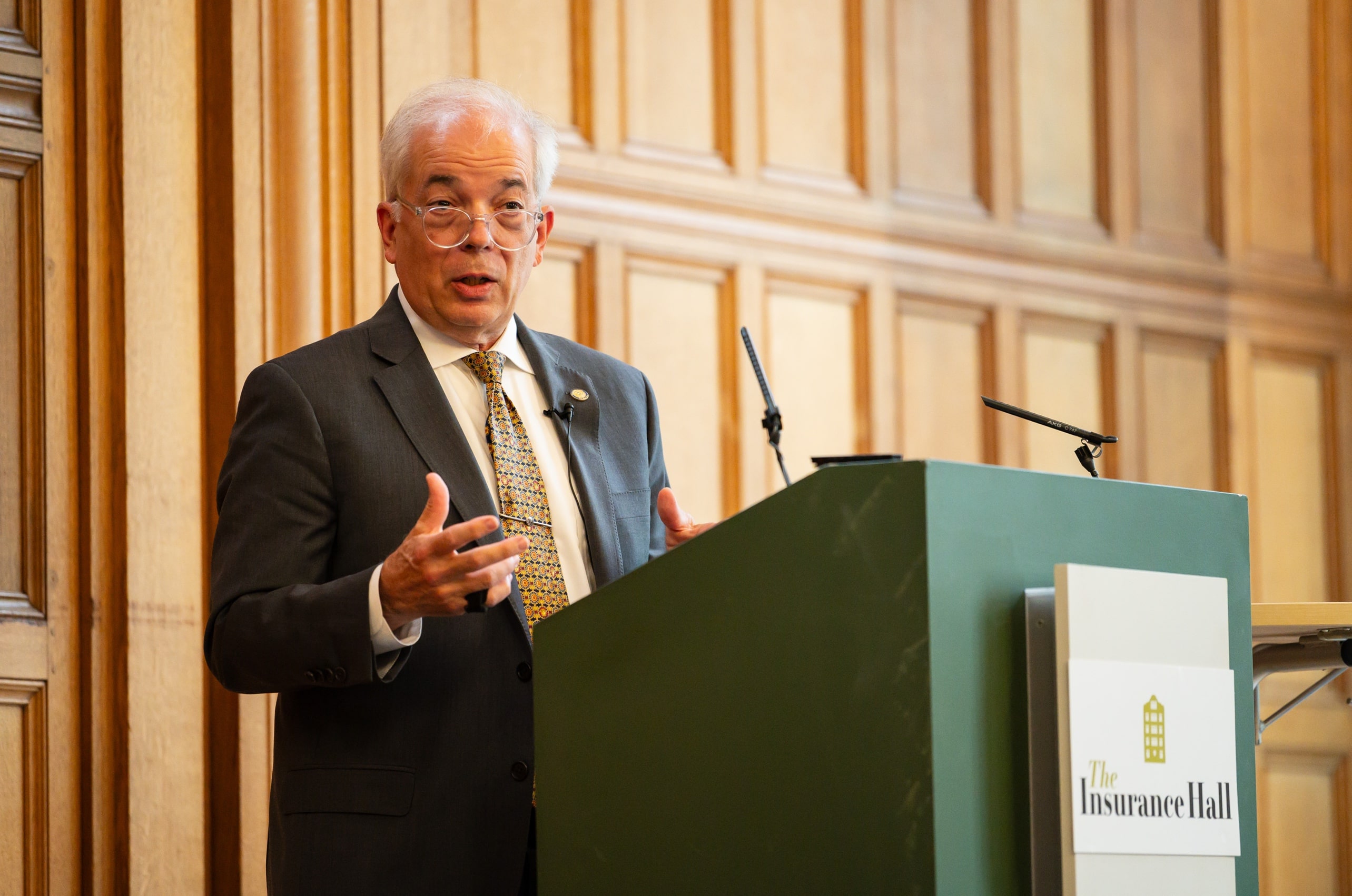 Changes to Regional Trade
Trans-Caspian investments were the focus of many speakers, reviewing the need for greater investment and capacity enhancement. Significant improvements to the Port of Baku and the Georgian Government's recent commitment to a new, deep-water Black Sea port were mentioned as both symbols of capacity improvements but also as deeper commitments by regional capitals to enhancing east-west trade capabilities.
Increased efforts to work together by regional leaders were highlighted as vital to the Caspian region's potential. Uzbekistan's Ambassador to the U.K., Said Rustamov, said, "We see that Central Asia is becoming a more consolidated and united region, which makes it more critical to Western and European countries." Several speakers picked up on this theme and addressed the growing momentum of intra- and inter-regional cooperation which can enable the Caucasus and Central Asia to be more attractive as trade partners to the large markets in neighboring countries and beyond.
Addressing the greater potential for investment due to this higher order of cooperation, Ambassador of Türkiye to the U.K. Osman Koray Ertaş focused on Türkiye and the West's potential for further engagement, "When we say connectivity, it is not only vital for the region and for ourselves, but it is also vital for Europe. The most important thing is that we have international cooperation, and we need our western partners to be involved in it."
Energy Challenges and Opportunities
Outdated and aging infrastructure has impeded capitalizing on some of the Caspian's abundant hydro and carbon resources. The lack of a trans-Caspian pipeline for gas or oil has limited Central Asia's access to global markets and pricing systems. Europe's continued need for increased supplies of natural gas as a transition fuel was discussed by conference participants and there was general agreement that the current environment has created a window of opportunity for greater Central Asian energy connectivity.
However, investments in domestic power grids and more efficient use of energy within Central Asia in particular was seen as an expensive but necessary energy security priority, as cold winters have demonstrated through successive power failures over the last two years. Reformulating domestic energy markets to increase sustainability will also require governmental reforms; both U.S. and U.K. interlocutors indicated a willingness to assist in helping the countries of the region address these critical needs.
The Caspian Policy Center organizers announced after this successful, first London Caspian Connectivity Conference that the Washington-based think tank intends to annualize the event. CPC CEO Efgan Nifti commented on both the turnout and robust discussions, "We are extremely pleased in the interest demonstrated by the London community and I am certain we will look at making this an annual conference, but also to hosting in London more targeted discussions on this critical region and look at security and other issues."