Elevating Azerbaijan-Ukraine Strategic Partnership: Mine Clearing Unveils New Dimensions
Image source: President of the Republic of Azerbaijan
The consequences of the Russian war against Ukraine have had varying effects on the Caspian Sea region. Among the states in the region, Azerbaijan has been among the most vocal supporters of Ukraine's territorial integrity and sovereignty. As a part of its balancing act, Azerbaijan has been trying to maintain its cordial relations with its Northern neighbor, Russia, while also taking necessary steps to assist Ukraine. However, a noticeable shift has occurred recently, with Azerbaijan adopting a more overtly opposing position against Russia's invasion of Ukraine. While Azerbaijan's support to Ukraine has been largely centered around humanitarian aid, recent reports suggest that the country has moved a step further by providing military support, namely in the demining area.
Since the start of Russia's invasion, Azerbaijan, through the subsidiary of its state energy company, SOCAR Ukraine, has been providing free gas and petroleum to vehicles in Ukraine used for humanitarian missions, such as delivering aid to internally displaced people, ambulances, and fire trucks. Azerbaijan has also regularly dispatched humanitarian aid to Kyiv, with the first shipment reaching Kyiv on February 27. Over the course of the ongoing war, Azerbaijan has sent medicines, medical supplies, and food products to the people of Ukraine, with the total amount of humanitarian aid reaching approximately 15 million euros (around 17 million dollars). In June, Azerbaijan provided Ukraine with twenty tons of fuel as humanitarian assistance, along with supplies, including water pipes, water pumps, and life jackets. This response was prompted by Russia's destructive actions targeting the Kakhovka dam.
Furthermore, approximately 90 Ukrainian children affected by the conflict and experienced the loss of their family members were brought to Azerbaijan to undergo medical and socio-psychological rehabilitation. Azerbaijan also took on the funding for the reconstruction of a secondary school situated in Irpin, a town about 13 miles from Ukraine's capital, Kyiv. This town had faced a severe Russian attack in March.
Baku's support of Ukraine has also drawn some criticism from Moscow. A representative of the Russian Ministry of Foreign Affairs was quoted in December of 2022 saying: "Baku's such step causes bewilderment. As part of a special military operation, the Armed Forces of the Russian Federation are destroying the critical infrastructure of Ukraine used by the Kyiv regime for military needs. Azerbaijani deliveries, unlikely to fundamentally change the situation, do not amount to humanitarian aid." However, this reaction has not deterred Azerbaijan from extending its assistance.
On June 1, President Ilham Aliyev and President Volodymyr Zelenskyy met on the sidelines of the second summit of the European Political Community in Chișinău, Moldova. During the meeting, the two sides shared their views on their bilateral relations, expressing satisfaction with each other's support for territorial integrity and sovereignty within international organizations. President Zelenskyy thanked Azerbaijan's humanitarian assistance to Ukraine, care for Ukrainian children, and arrangement of their visit to Azerbaijan. We hope for assistance in the further reconstruction of Ukraine. In the post-war period, we look forward to Azerbaijan's active participation in investment projects in Ukraine," added Zelenskyy. Later in June, during the Ukraine Recovery Conference (URC) held in London, Azerbaijan's Foreign Minister Jeyhun Bayramov announced that Azerbaijan will be allocating at least $10 million to support worldwide efforts aimed at restoring war-torn territories in Ukraine. Following the meeting on July 17, the President of Azerbaijan signed a decree on the allocation of funds to provide humanitarian aid worth $7.6 million to Ukraine. According to the decree, the aid is allocated for the purchase and shipment of electrical equipment to Ukraine's Ministry of Energy.
As of recently, Azerbaijan has also started to support Ukraine in the military sector. On August 10, at a meeting between Azerbaijan's newly appointed Ambassador to Ukraine and the Deputy Minister of Interior of Ukraine, it was announced that Azerbaijan's demining experts will train Ukrainian sappers in the territory of Azerbaijan. "Our experience should be very interesting for you. We are talking not only about national capabilities but also about international missions in which Azerbaijan has been involved," said Azerbaijan's Ambassador Seymur Mardaliyev.
Indeed, one of the rising challenges Azerbaijan has faced following the Second Karabakh War in 2020 is mine clearance of the liberated territories. Based on the estimates, over a million mines are expected to remain emplaced in the Karabakh region and the surrounding seven districts of Azerbaijan. According to the data from the International Crisis Group, nearly a fifth of the regained territory is classified as highly contaminated and around two-thirds of it is a priority area for humanitarian demining. As Azerbaijan has been attempting to rebuild the mentioned territories for its inhabitants' return, mine explosions have already become a critical issue, injuring people who venture back before the areas are ready. In this regard, ANAMA, Azerbaijan's national body responsible for addressing the demining issue, has been working with several international partners, including the United Nations Development Program (UNDP), and the European Union. The United Kingdom and the United States have also provided substantial financial support for ANAMA's operations.
According to the Ukrainian Deputy Minister of Interior, Russia's war has led to around 174,000 square kilometers of Ukrainian land and 14,000 square kilometers of Ukrainian water bodies potentially contaminated with mines and other explosive objects, which need clearing. Accordingly, further cooperation between the two sides in the demining area can be of monumental value to Ukraine, as Azerbaijan is well-positioned to share its technical know-how and experience with Ukraine in demining territories in Eastern Ukraine.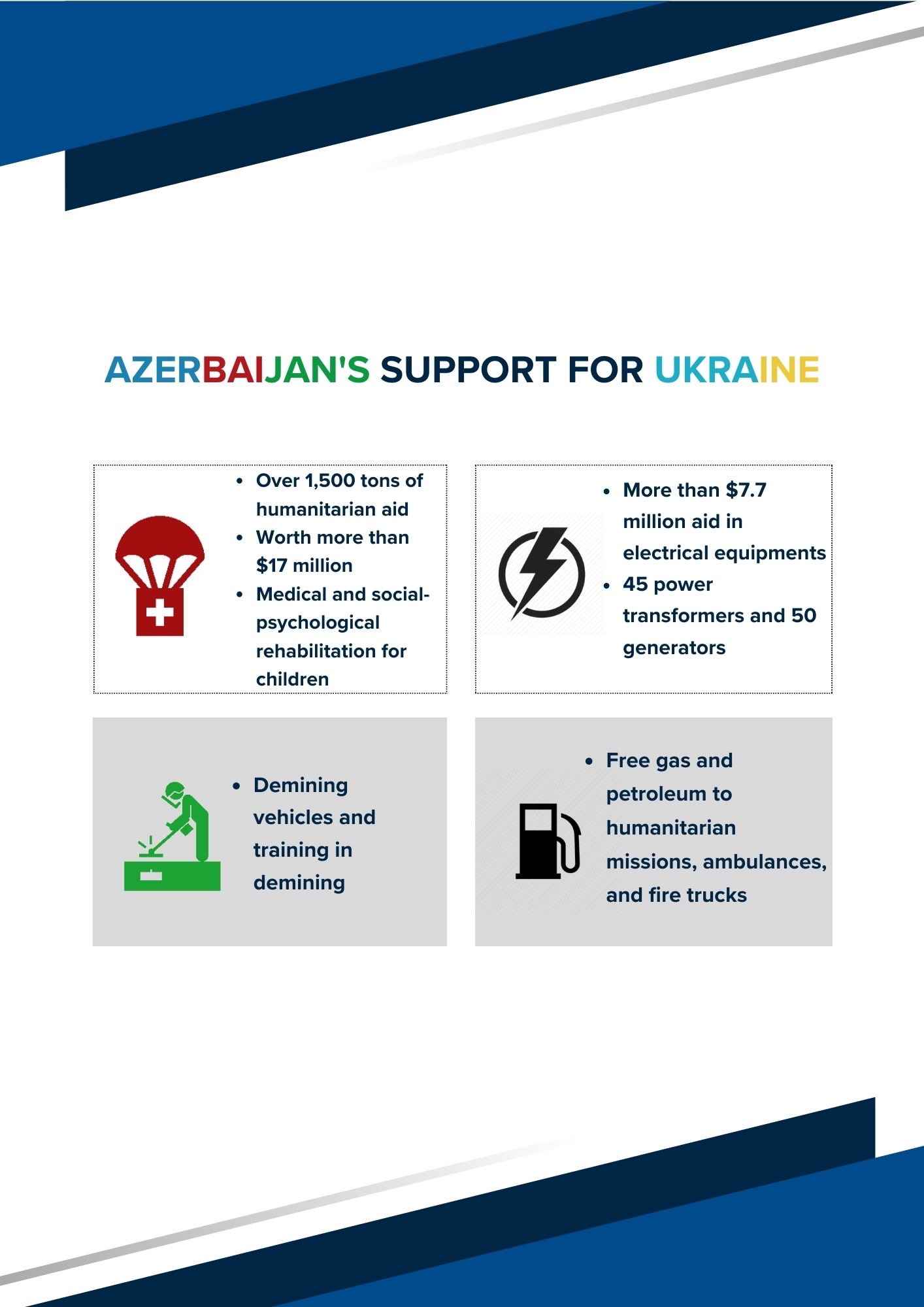 There have also been reports published online claiming Azerbaijan's arms supply to Ukraine in 2022. According to these reports, Azerbaijani-manufactured aviation bombs, mortars, and ammunition were spotted in use by the Ukrainian army. Several Ukrainian media outlets have published news regarding the Ukrainian army's use of Turkish-Azerbaijani made QFAB-250 LG guided air bombs, as well as Azerbaijani-made 20N5 82-mm mortars. While there have been no official response from Baku pertaining to these allegations, some Azerbaijani media sources have denied the government's involvement in arms supply, claiming that the arms might have been transferred to Ukraine through third countries in Africa and the Middle East.
For over two decades, Ukraine and Azerbaijan have remained strategic partners based on the principles of respecting each other's territorial integrity and sovereignty. This relationship was formalized in January 2022, the two countries signed a Joint Declaration in this regard, according to which the Azerbaijani government has not recognized the sovereignty of the separatist regions of Donetsk and Luhansk. This steadfast stance, which has gained strength and consistency in light of Russia's aggression, highlights the strategic significance of safeguarding internationally acknowledged borders within the post-Soviet region. Even though Azerbaijan maintains its close relations with Russia, it continues to pursue its independent foreign policy without aligning joined Moscow-led integration projects, as it remains one of the few countries in the Caspian Sea region to support Ukraine openly.