China Deepens Ties with Central Asia at the Inaugural China-Central Asia Summit
Image source: Shavkat Mirziyoyev's Press Service Twitter
President Xi Jinping of the People's Republic of China promised the leaders of Central Asia billions of dollars in financial support on May 18-19 during the inaugural China-Central Asia Summit in Xi'an City. This historic gathering was heralded as China's foremost diplomatic endeavor in 2023, serving as a crucial platform for President Xi to unveil his "grandiose plan" for Central Asia, while concurrently presenting an alluring alternative to Russia. This nascent strategic entente between China and Central Asia, as it gathers momentum, may imperil the significance of U.S. overtures within Central Asia's set of priorities. As the global superpowers vie for influence over the Central Asian nations, the region increasingly enjoys an unprecedented degree of attention from China, Russia, and the United States.
2000 years ago, Emperor Qin Shi Huang, the ruler who unified China under his imperial mantle, conceived the walled city of Xi'an as the epicenter of his dynasty, christening it Xi'an, or "Eternal Peace." Serving as the cradle of the fabled Silk Road, Xi'an has historically stood as a pivotal crossroad, fostering China's economic engagement with Central Asia. In an homage to the ancient city's enduring legacy, China designated Xi'an as the backdrop for the China-Central Asia Summit. "A new chapter of friendship, cultural affinity, and a shared future will be written by Chinese and Central Asian people together where the ancient Silk Road began, and this millennial bond will become further strengthened," said China's Foreign Ministry Spokesperson Wang Wenbin.
The stage for this two-day summit was set under the high stakes of an escalating U.S.-China competition, as an increasingly aggressive China set forth "a series of proposals" and economic agreements to bridge relations with Central Asia. While Xi was busy courting the leaders of Kazakhstan, Kyrgyzstan, Tajikistan, Turkmenistan, and Uzbekistan, the G7 group was occupied discussing mechanisms to combat China's growing influence.
Not only was this summit used as an effort to counter United States' desire to play a stronger role in China's neighboring region, but it was also Beijing deftly seizing the opportunity to capitalize on Russia's waning influence within the former Soviet sphere, defying expectations and swiftly expanding its strategic economic foothold in Central Asia. "Ethnic conflicts, religious strife, and cultural divisions are not the main theme of Central Asia. Unity, tolerance, and harmony are what the people of Central Asia seek," China's President Xi stated in his keynote speech at the China-Central Asia Summit. At the beginning of May, the five leaders of the Central Asian countries had traveled to Moscow to attend Russia's Victory Day- a traditional celebration of Russia's military might. However, as Central Asia has grown wary of Putin's Soviet-era thinking, especially after the Kremlin's invasion of Ukraine, the Central Asian nations have begun to assert their own cultural identities. In Xi'an, Xi courted the Central Asian leaders, assuring them of China's commitment to protecting "the sovereignty, security, independence, and territorial integrity of Central Asian countries."
As Russia's diminishing presence in Central Asia has become apparent, Central Asia is managing the complex realities of an increasingly multipolar world. This summit has shed light on the region's strategic alignments, and it has become evident that Central Asia is gravitating toward China rather than towards Russia or the West.
Xi utilized this summit as a platform to unveil China's aggressive plans to increase Central Asia's reliance on Beijing through direct financial support amounting to US$3.7 billion, excluding the value of the investment agreements signed. Leveraging extensive investments in infrastructure, lucrative pipeline agreements, and an intensified diplomatic campaign, with this summit, China sought to cement its status as the preeminent partner in the region, enticing Central Asian nations with promises of prosperity and stability.
The Central Asian leaders left the first day of the summit with a joint statement, announcing "the commitment of building a China-Central Asia community with a shared future," based on mutual assistance, common development, universal security, and everlasting friendship. About China's large investments in Central Asia, Wang Wenbin stated: "Guided by the principle of extensive consultation, joint contribution, and shared benefits, Belt and Road cooperation between China and Central Asian countries is burgeoning and bearing fruits in Central Asia." This was followed by the joint signing of the 'Xi'an Declaration of the China-Central Asia Summit', which established the blueprint for China-Central Asian economic relations in the coming years.
To open new prospects for China-Central Asia cooperation, Xi proposed "the establishment of meeting and dialogue mechanisms on industry and investment, agriculture, transportation, emergency response, education, and political parties;" "trade facilitation measures, upgraded bilateral investment treaties, and open "green lanes" for streamlined customs clearance;" "to increase the volume of cross-border cargo transportation, support the development of the trans-Caspian international transport corridor, promote the opening of the air transportation market, and build a regional logistics network;" "the establishment of a China-Central Asia energy development partnership;" "cooperation in such areas as improvement and utilization of saline-alkali land and water-saving irrigation, build together a joint laboratory on agriculture in arid lands, and tackle the ecological crisis of the Aral Sea;" "China-Central Asia technology and skills improvement scheme;" "the "Cultural Silk Road" program;" and, "capacity building on law enforcement, security and defense."
In the event's closing statements, all sides expressed readiness to implement China's Global Development Initiative, the Global Security Initiative, and the Global Civilization Initiative- a rebranded Belt and Road initiative now encompassing security and cultural aspects. This was supported by Xi's commitment to strengthen security ties with the region and his willingness to support the Central Asian states' law enforcement to help them "independently maintain regional security." Chinese President Xi noted that the Central Asian countries will be using the 10th anniversary of the Belt and Road Initiative as a starting point to form a new cooperation paradigm "featuring high-level complementarity and mutual benefit." It is becoming apparent that after Central Asia received inconsistent investments from the United States, Central Asian leaders are preferring the multi-billion-dollar support from Beijing. And, once again, Xi is using the promise of economic prosperity to stave off competing interests from Russia and the West. The war in Ukraine only sped up the process of economic engagement between Central Asia and China as the region looks more toward China and less toward Russia.
In a testament to the expansion of relations, the trade turnover between China and Central Asia in the first four months of 2023 alone reached an impressive $24.8 billion, registering a year-on-year increase of 37.3%. Central Asian nations experienced a surge in trade turnover with China throughout 2022, reaching unprecedented heights. Uzbekistan, for instance, witnessed its trade turnover with China grow from $7.4 billion in 2021 to an impressive $8.15 billion in 2022. Turkmenistan, too, experienced a substantial surge, with its trade turnover with China escalating from $6.84 billion in 2021 to an impressive $11.18 billion in 2022. Kazakhstan, a key player in the region, achieved a remarkable milestone with a notable trade turnover of $31 billion with China in 2022, a significant increase from $22.9 billion in 2021. Against this backdrop, the Central Asian leaders collectively voiced their support for deeper Chinese engagement under the auspices of the Global Development Initiative, setting the stage for further growth in the region.
Total Trade Turnover Between Central Asia and China in USD Billions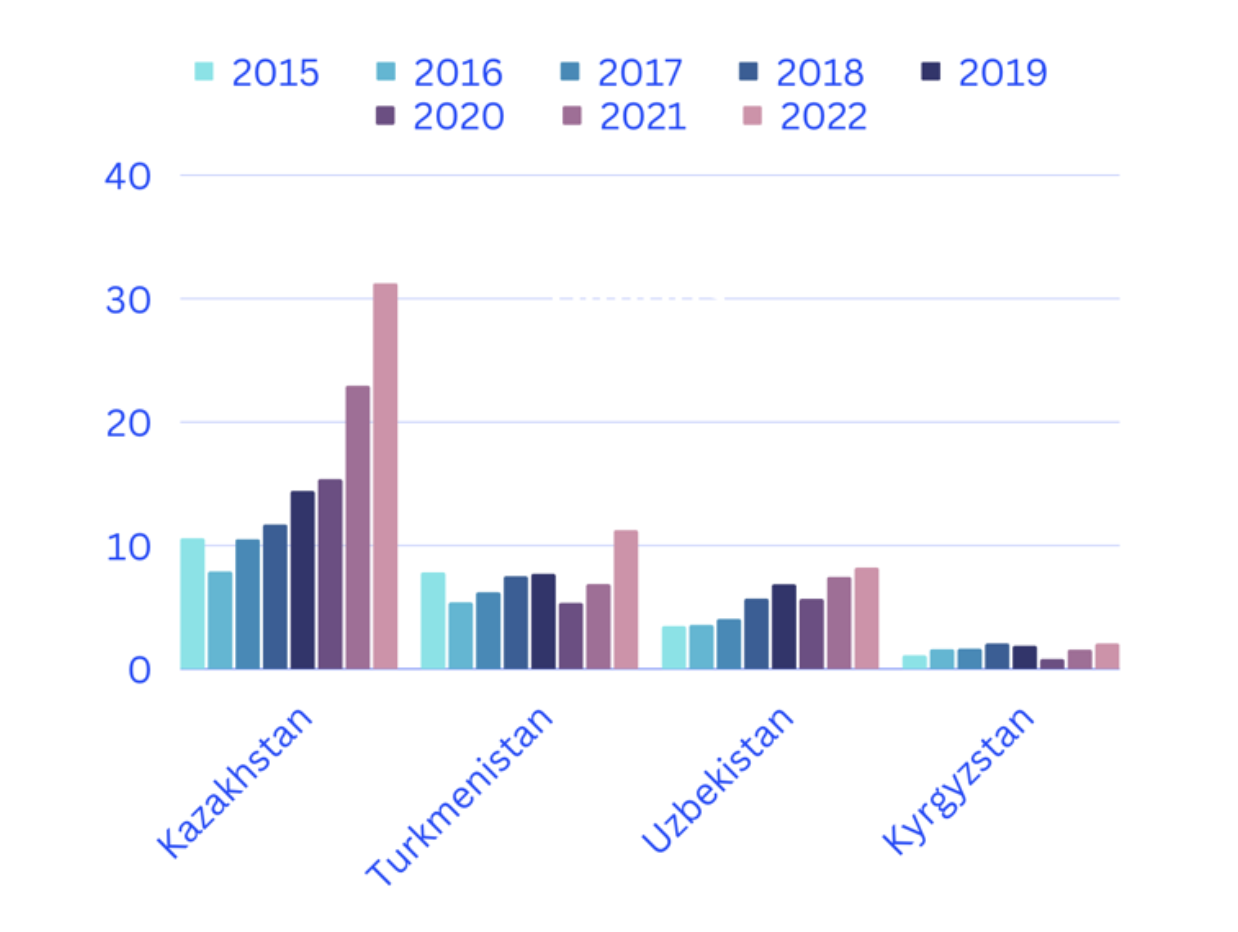 *Ministry of Foreign Affairs of the Republic of Kazakhstan, National Statistical Committee of the Kyrgyz Republic, Statistics Agency Under the President of the Republic of Uzbekistan, Silk Road Briefing
During the summit, Kazakhstan underscored its growing interest in Beijing by signing 47 agreements, totaling $22 billion. These comprehensive agreements span critical domains such as the expansion of the Kazakhstan-China oil pipeline, the planned launch of the Ayagoz-Bakhty railway link in the direction of China, crucial repairs to the Dostyk-Moiynty railroad segment, increasing gas processing capacity, the expansion of the gas transmission system, and the construction of a gas processing plant at the Kashagan oilfield, with an annual capacity of four billion cubic meters. Emphasizing the immense significance of Kazakh-Sino economic relations, President Tokayev stated: "Kazakhstan attaches great importance to constructing a Kazakhstan logistics center in the Xi'an dry port, which will become the main hub for sending direct container trains to Central Asia, Europe, Türkiye, and Iran."
Uzbekistan, too, made significant strides during the summit, forging a series of pivotal agreements with China. Notably, substantial progress was achieved in advancing the construction of the transformative China-Kyrgyzstan-Uzbekistan railway. Uzbekistan's Minister of Transportation, Ilhom Mahkamov, heralded this occasion, stating, "Today, alongside our Kyrgyz and Chinese counterparts, we are signing a distinct 'roadmap' delineating the practical steps necessary to propel this construction forward." Furthermore, collaboration in the production of freight cars reached a new level as China and Uzbekistan embarked on a joint venture dedicated to manufacturing freight cars within Uzbekistan's borders. The minister also revealed that discussions were already underway to explore the production of passenger cars in the future.
Central Asian countries collectively embraced the prospect of improving relations with China by pledging to convene these China-Central Asia summits every two years. With Kazakhstan's commitment to host the next summit in 2025, the country is underscoring its pivotal role in shaping the future trajectory of China-Central Asia relations. But, although there is now clarity to the growing influence of Beijing in Central Asia, the region's relations with Russia and the West are blurring.
In recent months, tensions between Beijing and Washington have reached a boiling point, as the United States and China have witnessed a flurry of accusations and counteraccusations, intensifying the rhetoric between these global powers. Perturbed by China's perceived "economic coercion" extending into Russia's traditional sphere of influence, officials within the United States told Reuters that the G7 collective would discuss strategies aimed at thwarting China's encroachments during the overlapping G7 meeting in Japan, May 19-21. However, China's Foreign Ministry Spokesperson Wang Wenbin, in a spirited rebuttal, asserted that "No one is more qualified than the U.S. to be called out for economic coercion.... The U.S. has been browbeating relevant countries into economic decoupling from China, imposing a sci-tech blockade on China, and suppressing Chinese companies." In an effort to counter the West, China used this summit to step into the space left by Russia's regional decline, presenting itself as the preferred partner to the region.
While Russia still holds significance in Central Asian affairs, the dynamics on the ground are undergoing a discernible shift—China discerns that Russia can no longer fulfill the multifaceted aspirations of the region, encompassing economic cooperation and security collaboration. A notable turning point occurred when Chinese President Xi, after three years of international seclusion due to the Covid-19 pandemic, reemerged onto the global stage with an in-person visit to Kazakhstan in September 2022, followed by a subsequent visit to Uzbekistan. China has made it clear that Central Asia is quickly becoming a priority for Chinese foreign relations; without a stepped-up presence from the United States, Washington's role in the region could decline.
The China-Central Asia Summit offered Beijing an important opportunity to bolster its economic and strategic relations with neighboring countries. It also functioned as a deft countermeasure in the escalating "battle of offers" with Western powers vying for influence over the so-called "middle ground countries," including Kazakhstan. As China adeptly maneuvered its growing global rivalries with Russia and the West, the summit solidified its position as a formidable force in the region. With the infusion of billions of dollars in new investments, a burgeoning list of ambitious infrastructure projects, and the deepening of diplomatic ties between Central Asia and China, it becomes increasingly unclear how the United States can present itself as an attractive alternative to the countries of Central Asia. The shifting tides of power and influence have positioned China as a key partner, leaving Western powers grappling for effective means to compete for influence in this strategically significant region.