Tracking Trans Continental Connections: China Inaugurates a New Transcontinental Freight Train Route Through the Caspian Region
Image source: Trans Caspian International Transport Route
China inaugurated a new freight train route April 15 expanding its railroad connections with Europe via the Caspian Sea. The 7,000-mile-long route begins in the capital of China's northwest Shaanxi Province, Xi'an, and traverses Kazakhstan, Azerbaijan, Georgia, Romania, Hungary, Slovakia, Czechia, and Germany. The newest railway line is a component of Chinese President Xi Jinping's larger Belt and Road Initiative (BRI), which envisages a massive network of trade and transit routes stemming from Chinese sea and dry ports. Since the BRI's inception, the broader Caspian region has witnessed extensive railroad construction projects that connect their goods with Chinese and European markets. Kazakhstan is often labeled the linchpin of the initiative, being the "birthplace" of the overland segment in 2013. Several Caspian countries have displayed interest in further developing regional railway connectivity through the Trans Caspian International Transit Route that aims to expedite cargo transportation across the region. The most recently opened freight train route will rely on ships to transport goods between Kazakhstan and Azerbaijan across the Caspian Sea, as well as across the Black Sea to Europe. The decision to bypass Russia also indicates a shifting trend in Chinese railway ambitions as well as concerns by European businesses and governments.
The China-Europe Freight Train (CEFT), inaugurated in March 2011, sparked a push to develop a transcontinental network of freight lines that would connect European markets with China and provide a quicker yet affordable alternative to ocean-borne freight systems. Since then, 15 additional main freight train routes to Europe were launched, forming a network of 45 BRI countries. In the first four months of 2022 alone, 790 freight trains departed Xi'an destined for Europe. Still, the route crossing Central Asia and the South Caucasus is severely underused.
Routes from Chinese cities to Europe can be divided into four corridors: central, south, east, and west. The central corridor connects Beijing to preexisting railways in Siberia. The eastern corridor runs through China's highly populated coastal cities to the same Siberian network. The western corridor connects China's northwestern provinces with Russia at its northwestern border crossing. These three corridors comprised 99.9 percent of China-Europe freight trains in the first half of 2021. The less developed southern route crosses into Kazakhstan at the Khorgos Dry Port and traverses the Caspian region to Europe via either the Black Sea or Turkey.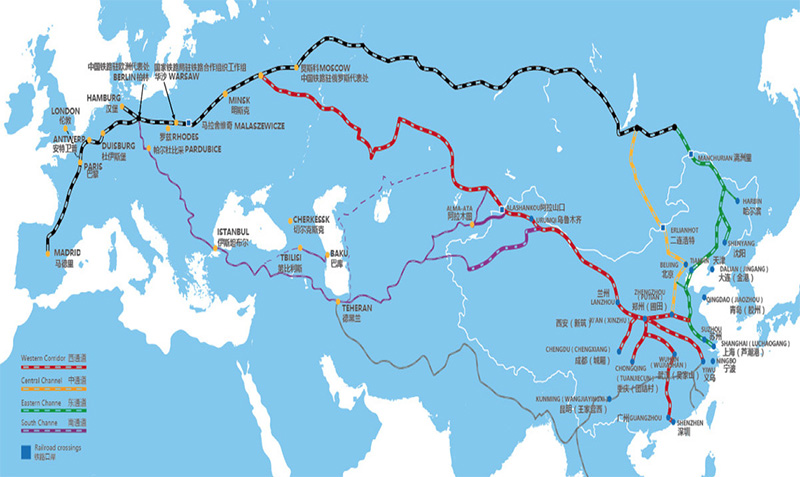 Source: Winsky Freight
Nevertheless, the southern corridor has been growing in attractiveness for Beijing. As the Caspian countries become more integrated into global markets and procure larger investments to expand on and to improve dilapidated infrastructure systems, the number of freight trains utilizing the CEFT's southern corridor will likely grow. Freight trains on the CEFT were increasingly used to mitigate the impacts of COVID-19-related supply chain disruptions. Furthermore, freight train service has side-stepped political problems. China, for example, was forced to suspend cargo flights to Kazakhstan amidst nationwide protests in January, but freight train service remained operational, even if it did experience some delays. In addition, international sanctions on Russia due to Moscow's unprovoked invasion of Ukraine are forcing China to diversify its railway routes southward. Countries that have goods transiting through Russia run the risk of being rejected at their destinations if those countries adhere to sanctions. Moreover, in the past Russia has blocked goods or trucks from certain countries over disputes with their governments. On March 16, Xi met with former Turkmenistan President Gurbanguly Berdimuhamedov and his son, the country's new President, Serdar Berdimuhamedov. The leaders discussed alternative routes that circumvent Russia.
Even though to-date a considerable majority of Chinese freight trains en route to Europe cross Russia, the southern corridor through the Caspian region is not insignificant. In 2021, Kazakhstan saw 15,000 trans-Eurasian trains carrying about 1.5 million containers.
The bottom line is that China has been willing to integrate a wide variety of transportation and other infrastructure projects into its Belt and Road Initiative. At the same time, Caspian countries are willing to link into the BRI and have been receptive to Chinese investment. The pandemic situation, the ongoing conflict in Ukraine, and continued problems with global supply chains are reasons for China – and others – to look to transform economic connections and to continue to expand and diversify links with Europe. Caspian countries should work with China and countries in western and central Europe, as well as in the Middle East and South Asia to ensure that the region has suitable logistics hubs and secure, efficient transit facilities. Doing so would further integrate the region into global trade networks, attract more lucrative investment, and bolster their domestic economies.