Kazakhstan's Unbalanced Distribution of FDI Leaves Outlying Regions in the Dust
Kazakhstan's economic development model and liberalizing systems have enticed foreign companies to invest capital in the country's industries. Its vast hydrocarbon reserves, ample space for agricultural development, and strategic geopolitical location between two large powers – Russia and China – has made it an important player in the global economy. In 2020, Kazakhstan attracted $161 billion in foreign direct investment (FDI), of which $30 billion originated in the United States. Kazakhstan also accounts for about 75 percent of all FDI inflows into Central Asia, signaling its role as a gateway for FDI in the region. Kazakhstan has successfully established a good rapport with wealthy foreign investors and promoted a climate that is conducive for investment. However, foreign direct investment into Kazakhstan is not evenly distributed. Many outlying regions have yet to feel the positive effects from FDI that are enjoyed in the country's major cities and oil-rich oblasts.
            Kazakhstan has taken significant strides to improve its investment climate for foreign partners since independence. In June 2017, Kazakhstan gained membership in the OECD Declaration on International Investment and Multinational Enterprises while also becoming an associate member of the OECD Investment Committee. The multilateral group establishes universal guidelines for countries to follow for a uniform investment climate. Kazakhstan's accession to the group signals its eagerness to increase the FDI it receives. Furthermore, Kazakhstan authorized 12 special economic zonesto encourage FDI and rolled out additional incentives for foreign companies, including exemption from corporate income and land tax for the first 10 years of operations, simplified procedures for attaining land plots, and exemptions from being required to obtain work permits for foreign workers. Nur-Sultan's desire to foster an inclusive investment environment for foreigners earned Kazakhstan 25th place on the World Bank's Ease of Doing Business list.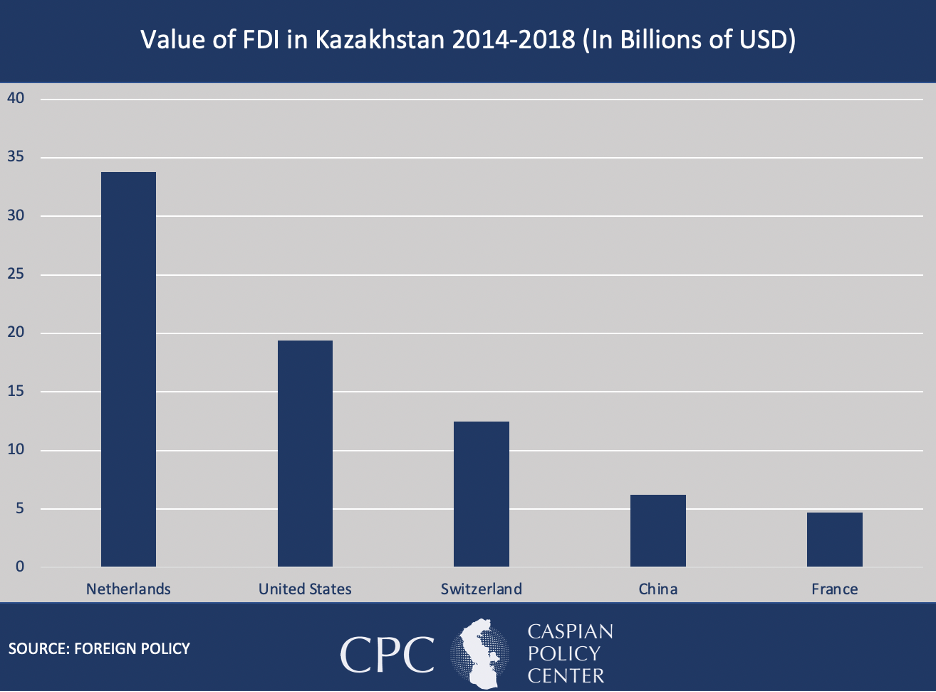 While Kazakhstan has boasted significant investment opportunities since independence, it has not been evenly distributed across the country. In Northern Kazakhstan, officials have struggled to attract FDI to support the local economy. The lack of opportunities in the region has resulted in a mass exodus to larger cities and abroad in search of work. In 2018, North Kazakhstan received only $1 million in FDI compared to Kazakhstan's more populous Karaganda region, which attracted $647 million in FDI that same year from the United States. Kazakhstan's three littoral regions along the Caspian Sea drew more than $12 billion in FDI from the United States due to its access to offshore oil fields. East Kazakhstan does not follow this trend because of the heightened investment projects sponsored by China's presence in the region.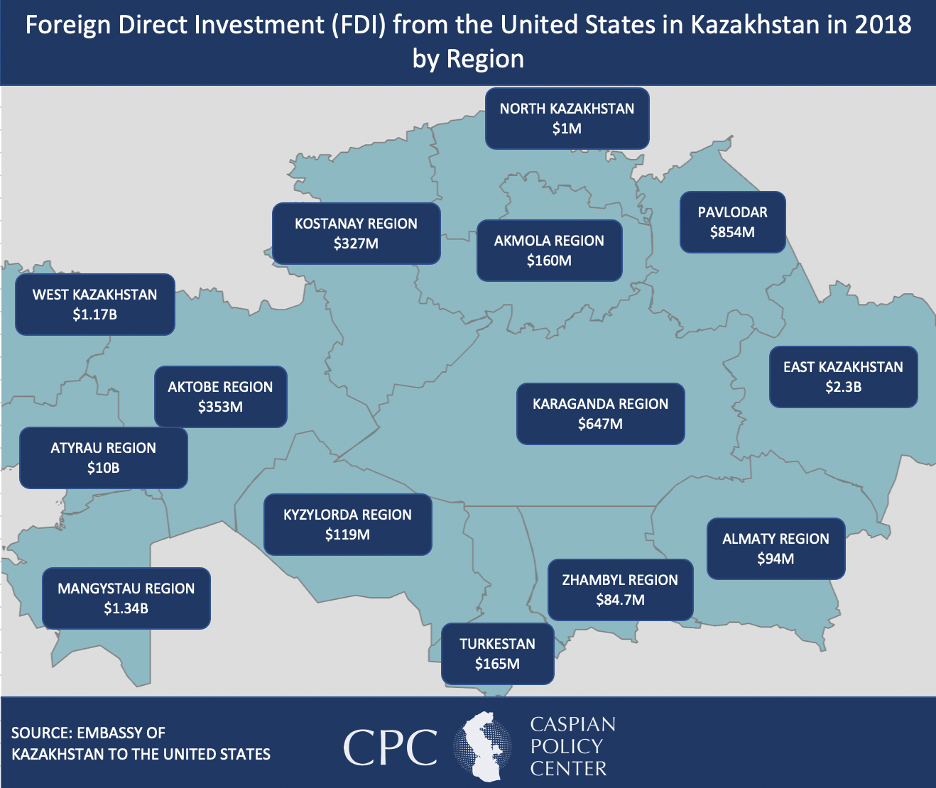 The central government is attempting to rectify this unbalance in investments. The Zhambyl region, located in the south along the border with Kyrgyzstan unveiled plans to implement nine investment projects totaling $22 million. The regional government hopes that increased investment will jumpstart Zhambyl's economy after it was disproportionately impacted by COVID-19 pandemic travel restrictions due to its heavy reliance on cross-border travel. Moreover, Nur-Sultan has incorporated the North Kazakhstan Region into its 2025 plan for social and economic development. The government hopes to launch 80 investment initiatives worth $4 billion to support those in the remote outlying region.
            Holistically, Kazakhstan has demonstrated to foreign investors that its economy, government structure, and vast resources make it a suitable destination for FDI in Central Asia. The country has direct access to Russia, China, and oil deposits in the Caspian Sea, as well as connections to the other four Central Asian republics. Nevertheless, the unequal distribution of investment between the countries region's has hindered its overall economic development. The discrepancy between Kazakhstan's western and more populated regions and its outlying border regions is detrimental for economic and political unity. North Kazakhstan contains a large ethnic Russian population who could feel disenfranchised by a lack of economic opportunity and growth. Kazakhstan can promote FDI in these regions to enhance cross-border trade efficiency, which would be beneficial for the entire region. In addition, it would readjust the economic gap between these two cleavages and promote job growth in outlying regions.
Image Soruce: Valery Sharifulin/TASS for the FDI article