Kazakhstan Revives Abandoned Port and Ships Oil Through the Middle Corridor
Image source: Shutterstock
On March 20, a minority shareholder in Kazakhstan's Kashagan offshore oil field, Japan Inpex, announced that a trial shipment was successfully delivered from the Aktau Caspian seaport to the Port of Baku, thereby opening a new route to ship oil to European markets while bypassing Russian borders. The emerging potential of the Middle Corridor is quickly becoming an instrument of energy security against Russia's immense leverage in the oil and gas sector; and with its first trial shipment complete, the route is finally materializing.
Kaztransoil announced that Japan Inpex North Caspian Ltd. - a limited partnership group shared by Japan Inpex, Exxonmobil, Shell, Eni, and TotalEnergies - successfully delivered 52,000 barrels of oil from the Kashagan oil field by rail to the Aktau Caspian Sea port, where it was then loaded onto an Akademik Khoshbakht Yusifzada tanker, shipped across the Caspian Sea, and unloaded at Baku's Sangachal terminal. This successful shipment indicates the future use of this sea route to transport oil and petrochemical products from Kazakhstan to the Baku-Tbilisi-Ceyhan (BTC) pipeline, then moving through Türkiye to Europe. Before this option, 70% of Kazakhstan's oil exports flowed through the Caspian Pipeline Consortium, which delivers oil from Kazakhstani fields, over Russian borders, to the Novorossiysk port to be shipped to European markets. But without an end to the Russian invasion of Ukraine in sight, it's become increasingly crucial for Caspian Region countries to create new, or revive old, export routes to avoid crossing into Russia. This shipment did precisely that as it averted Russian land and sea borders.
Prior to this, Executive Director of Kazakhstani shipper Kazmortransflot, Aydar Orzhanov, stated most foreign and local producers had stopped using the Aktau port for energy shipments in 2015, after the Caspian Pipeline Consortium expanded its capacity. Some local producers continued to use the Aktau port to ship small amounts of oil to the Russian port of Makhachkala on the Caspian Sea, where it was then transported via a Russian-owned pipeline to the Novorossiysk Black Sea port. However, with Russia's retaliatory halts on the Novorossiysk terminal in 2022, these Russian pipeline routes are no longer stable and reliable.
Although successful delivery of oil from Aktau to Baku is a major step in the development of the Middle Corridor, the issue of shipping capacity still remains. According to Orzhanov, two of the three Kazmortransflot Caspian-Max tankers – capable of reaching the Caspian Sea through Russian riverways – are currently under a long-term charter to deliver oil between the Aktau Port and Russia's Makhachkala port, thereby significantly reducing the transport capacity through the alternative route to the Baku terminal. However, this issue may soon end as new investments begin to flow into the Middle Corridor.
Despite the Aktau-Baku route having higher transportation expenses, new investments are giving way to the purchase of new, higher-volume Kazmortransflot (KMTF) Caspian Max tankers, which can reduce overall costs. In December 2022, only months before this first trial shipment, the KMTF signed an agreement with UAE-based AD Ports Group to launch a joint venture that will provide shipping services for energy companies operating in the Caspian Sea. Upon announcing the joint venture agreement, AD Ports stated that it "will look at investments opportunistically" and it will offer "offshore support vessels, integrated offshore logistics and subsea solutions and, at a later stage... container feedering, ro-ro, and crude oil transportation in the Caspian Sea and the Black Sea." Further, it is expected that the venture will create investment opportunities for upgrades of fleets and facilities, "and some major offshore projects, such as the multi-billion-dollar expansion of the Kashagan field." The main objective is to jointly expand the capacity to carry 8-10 million tonnes of crude annually in the medium term.
Operators of the Kashagan offshore field are still searching for alternative routes to global markets with the needed capacity to offset Russian pipeline disruption. And although the success of the March 20 trial shipment indicates the success of the Middle Corridor transport route, the capacity must be further expanded to offer sufficient profit. With a predicted annual capacity of near 1.5 million tons of oil, the Middle Corridor route is still far from the envisaged 6-6.5 million tons Kazakhstan's Prime Minister, Alikhan Smailov, touted in 2022.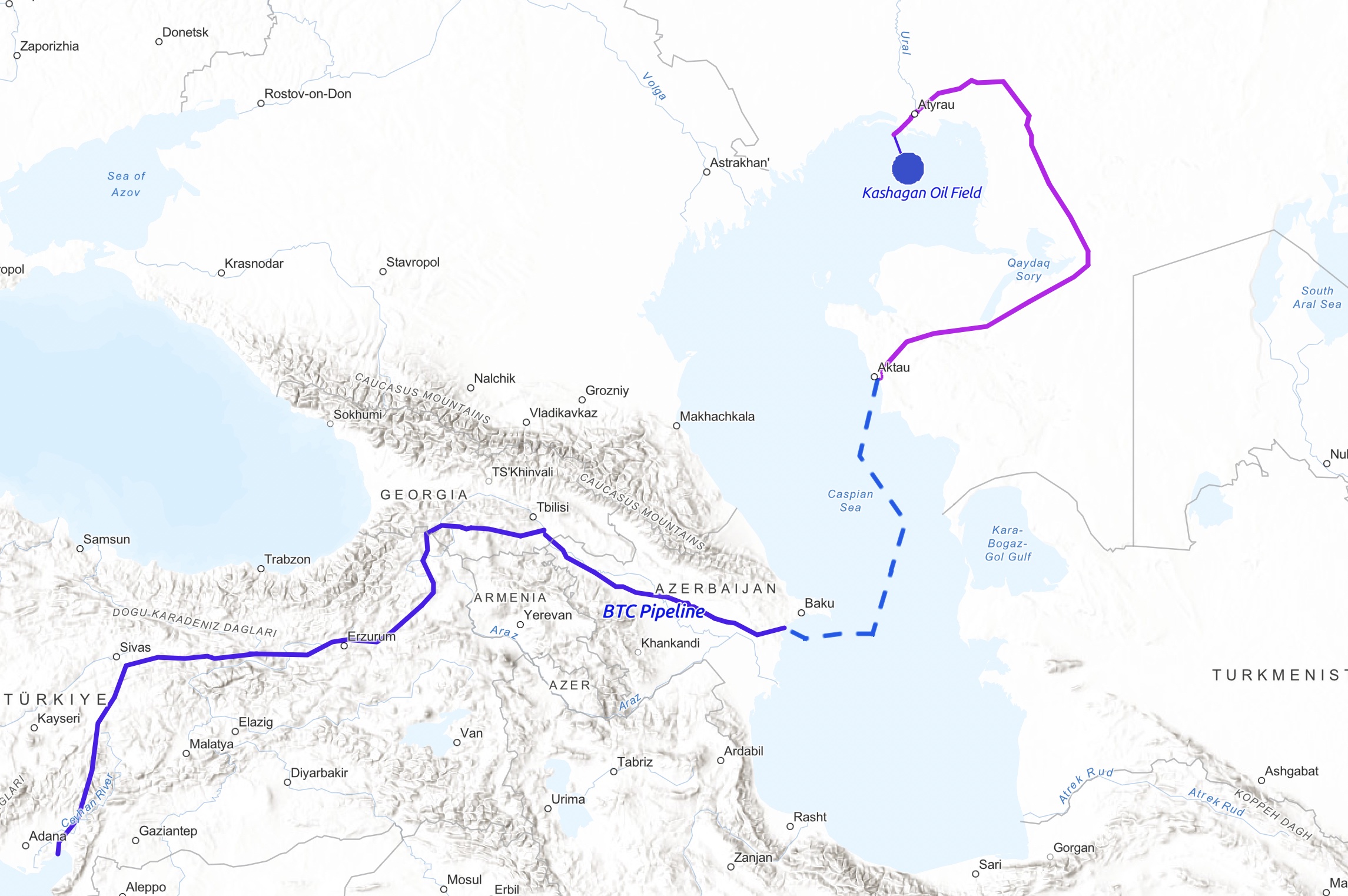 The route from the Kashagan oil field, to the Aktau port, to the Port of Baku. Map created by Haley Nelson, Caspian Policy Center